Program
Presentation Downloads
Faculty
Program
Please click to download the 14th International Winter Arrhythmia School Program (2.4 Mb pdf file):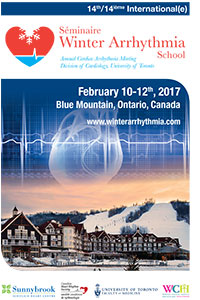 Presentation Downloads
Some presentations from the 14th IWAS are available below. They are stored per room per conference day as they appear on the program. Their names start with the presentation start time followed by the last name of the presenter and a few first words from the presentation's title.
Whistler Room
Friday, 10 February / Whistler Room
Saturday, 11 February / Whistler Room
Sunday, 12 February / Whistler Room
Blackcomb Room
Friday, 10 February / Blackcomb Room
Saturday, 11 February / Blackcomb Room
Mont Tremblant 2 Room
Friday, 10 February / Mont Tremblant 2 Room
Mont Tremblant 1 Room
Saturday, 11 February / Mont Tremblant 1
Faculty
International Winter Arrhythmia School Founder and Chair: Dr. Eugene Crystal
14th Annual Hosting Faculty

Dr. Eugene Crystal, Chair, Toronto, Ontario
Dr. Darren Kagal, Toronto, Ontario
Dr. Ilan Lashevsky, Toronto, Ontario
Dr. David Newman, Toronto, Ontario
Dr. Sheldon M. Singh, Toronto, Ontario
Suzette Turner, NP, Toronto, Ontario

14th Annual Faculty

Dr. Kamran, Ahmad, Toronto Ontario
Dr. Adrian Baranchuk, Kingston Ontario
Dr. Tara O'Brien, Toronto, Ontario
Dr. J. David Burkhardt, Texas, USA
Dr. Vijay Chauhan, Toronto, Ontario
Dr. Karen Fleming, Toronto, Ontario
Dr. Gregory Golovchiner, Petah Tikva, Israel
Dr. Pedram Kazemian, New Jersey, USA
Dr. Jaimie Manlucu, London, Ontario
Dr. Michael Mohareb, Toronto, Ontario
Dr. Fuad Moussa, Toronto, Ontario
Dr. Pablo Nery, Ottawa, Ontario
Dr. Douglas Ng, Toronto, Ontario
Dr. Arnold Pinter, Toronto, Ontario
Dr. François Philippon, Quebec City, Quebec
Dr. Calum Redpath, Ottawa, Ontario
Dr. Mohammed Shurrab, West Bank, Palestine
Dr. Martin Strauss, Toronto, Ontario
Dr. Tamas Szili-Torok, Rotterdam, The Netherlands
Dr. Arun Sundaram, Toronto Ontario
Dr. Anthony Tang, London, Ontario
Dr. Mohammad Tavallaei, Toronto, Ontario
Dr. Sheldon Tobe, Toronto, Ontario
Dr. Peter Weiss, Utah, USA

 Organizing Committee

Eugene Crystal, Chair, Toronto, Ontario
Sharon Domb, Toronto, Ontario
Jeff Healey, Hamilton, Ontario
Art Kushner, Toronto, Ontario
Ilan Lashevsky, Toronto, Ontario
Michael Mohareb, Toronto, Ontario
Fuad Moussa, Toronto, Ontario
Sheldon M. Singh, Toronto, Ontario
Larry Sterns, Victoria, BC
Dr. Mohammed Shurrab, West Bank, Palestine
Nigel Tan, Toronto, Ontario
Anthony Tang, London, Ontario
Suzette Turner, NP, Toronto, Ontario

Organizers: